Notes: CheckThis
CheckThis is firming up its positioning, and that firm move is toward Tackk's position. They call their pages "posters" and call what they do "digital posters for social media." "Every poster has a story," they say. On their about page they stress a "publish here, share anywhere" approach with a stress on easy, private ("on your terms"), and temporally flexible ("a day, a week, a month"). "Think of it this way. You don't have to buy a car to get to the airport Δ that's what taxis are for. You don't need to set up a blog to publish to the web Δ that's what checkthis is for. Instant web publishing without the clutter."
It appears this messaging is quite new. On 9/20/12 I got a page published confirmation that was headlined "Share your page" and now on 9/27/12 there are no mentions of pages anywhere on the site, rather it is all "posters." This indicates a positioning quite close to that of Tackk. While they still have not caught on to making this a verb and noun, as we can do with "tackk," they have decided that calling these "pages" is too ambiguous.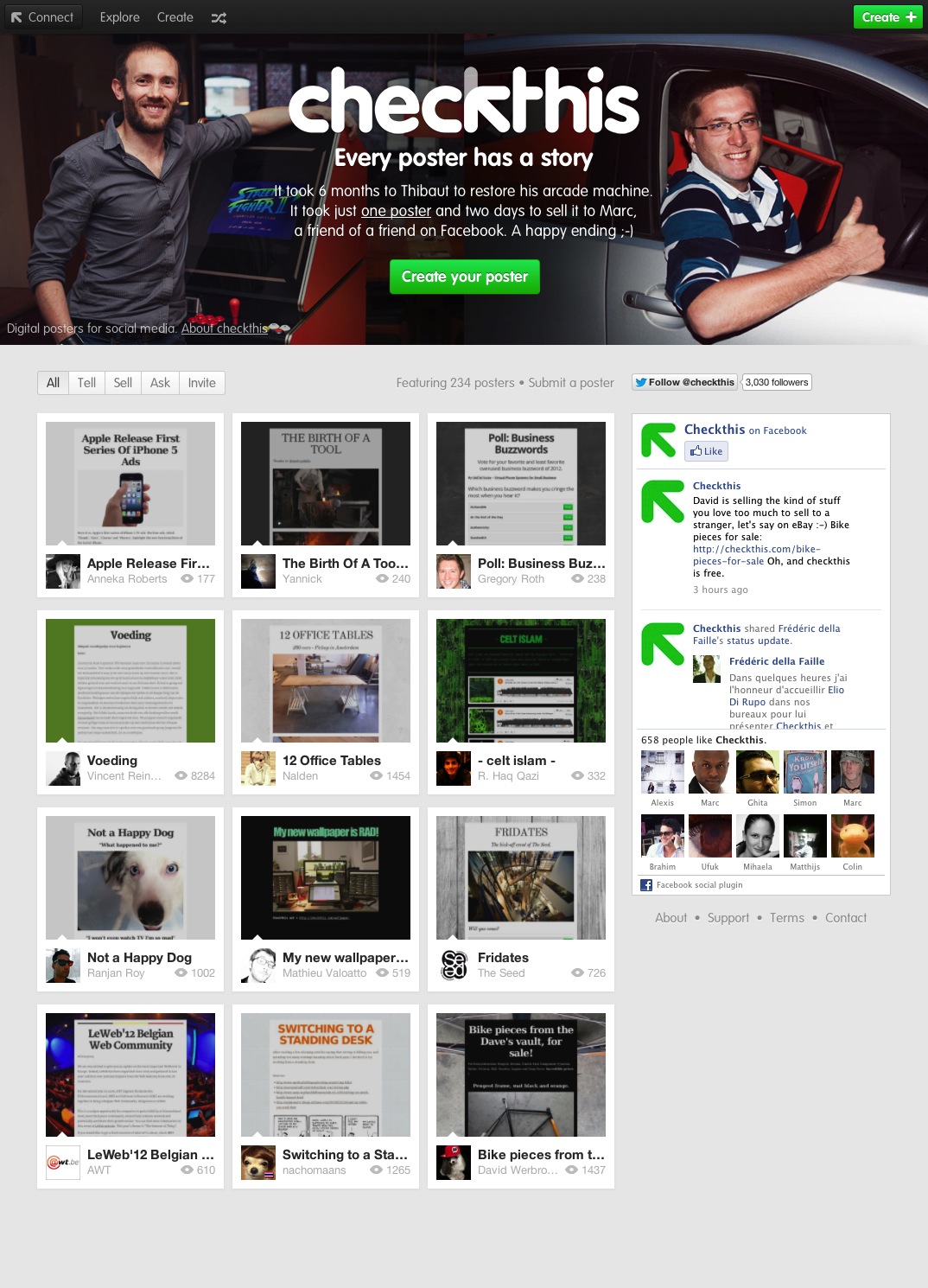 CheckThis has recently (mid to late September?) radically changed its initial approach experience. Where they once simple had a page ready to start editing, they now start off with a harder sell ("Every poster has a story"), a matrix of posters, and a sidebar feeding Facebook comments. This also marks a decision by CheckThis to call their pages "posters" in a way similar to Tackk's decision to call pages "tackks".
Since the initial landing is no longer on a page-ready-to-edit, there is a bright green "Create +" button in the upper right and a bright green "Create your poster" button below the pitch.
Editing the content of the template to create a poster is very easy, just click and type away. No sign-in is required until you "Publish" a page. Even then, you can choose a "no edit" option to publish the page anonymously and never be able to edit it again. If you do want to be able to revise your page, then you need to link CheckThis with your Facebook, Twitter, or Google account (Facebook gets the big button, though).
Registering for an account generates a confirmation message.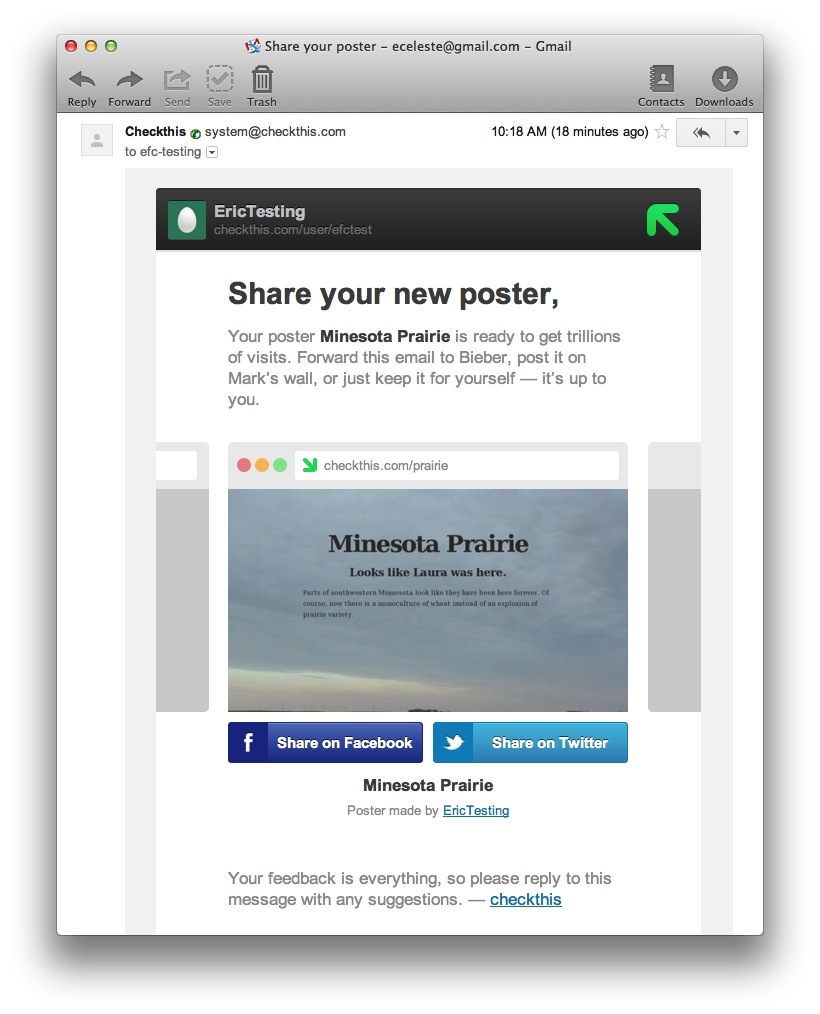 Publishing a new poster creates a "share your poster message" with a thumbnail of the poster and invitations to share it with Facebook and Twitter as well as a request for feedback.
No other clutter mail has been received as a result of using CheckThis.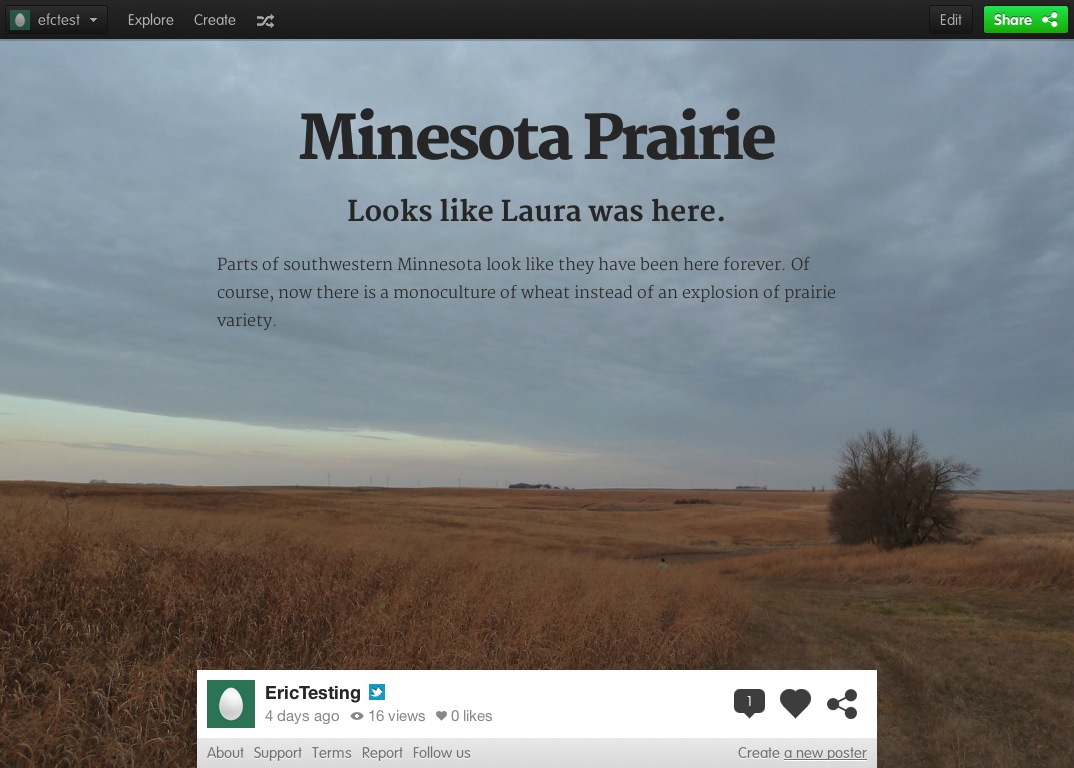 It is interesting to note that CheckThis has gone through a recent round of simplification. Where they used to guide the user through a choice of "Ask, Tell, …" they now simply invite the user to create. Then, as the user creates, some coaching is introduced. Before the users edits a page a subdued gray couple paragraphs of sales pitch/coaching about features you might want to use occupies the eventual place of their text. A couple minutes of typing an one picture upload can result in a poster
like this. My only concern with the result is the loud social bar at the bottom (it does not obey the design choice to make blocks transparent) and the real estate devoted to the top CheckThis bar and the bottom "Powered by checkthis" administrivia. I noticed that within five minutes this poster had attracted seven views.
Posters are allowed to attract comments from users. Comments can be left with a simple email address (even a fake one) as an identifier, or with linked Twitter, Facebook, Google Plus, or Disqus accounts. If you leave a simple email you are invited to register it with Disqus to get history and notification features for comments.
This comments block also expands to pretty much take over the poster page and turn it into a CheckThis community page. Here you can follow discussions happening on other posters and top users of CheckThis. This feels like a pretty clever and stealthy way to draw people into the community.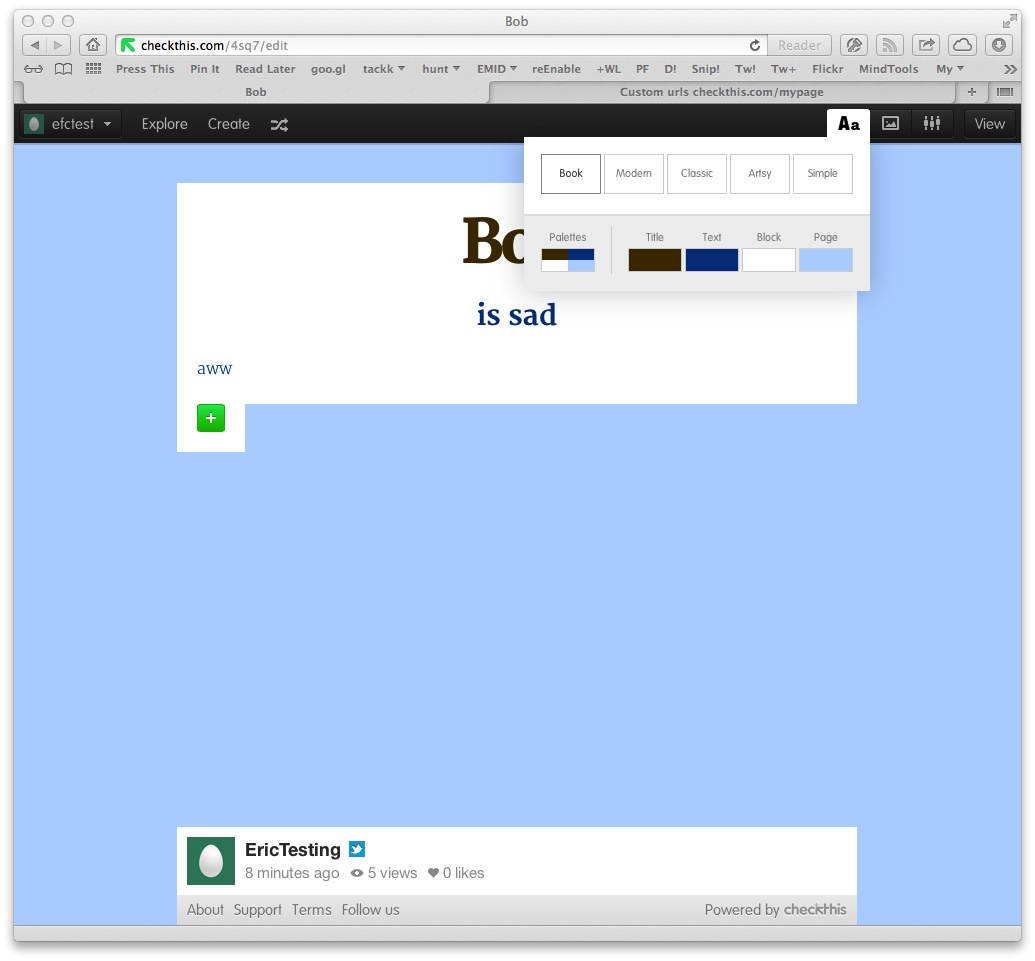 Customization is quite limited in CheckThis posters. Individual elements can't be customized, only the overall look of the poster can be changed. By clicking on the "Aa" icon while in edit mode you can choose from five looks for your poster (book, modern, classic, artsy, and simple) and pick a color palette (or control the title, text, block, and page colors individually).
By clicking on a bright green plus sign you can add blocks to your poster. These can be text (title, header, text), image, video, more (map, sound, tweet, weblink), or apps (payment, poll) blocks with text, more, and apps all popping up menus of choices that could easily be expanded in the future.
While hovering over a block a gear icon appears in its top right corner which expands to allow you to link the whole block to an external website, delete the block, or move the block in relation to other blocks.
After publishing a poster you are immediately presented with options for sharing it. These include Facebook, Twitter, Google Plus, Pinterest, and email. These same share options are always available to any viewer of your poster via the bright green "share" button in the upper right corner of the page.
Using getsatisfaction for support and feature requests. GetSatisfaction is a nice way to build a community around motivated users of your system, and you can see some of that emerging in the CheckThis forum. For example, the custom URL feature was the top community request and finally implemented by CheckThis this summer.
Comments are used as the entry into the community. Users are tracked by how many comments they leave and discussions of posters are shared across (presumably public) posters on the site. This functionality is "Powered by Disqus". A nice example of this discussion-driven community can be seen on a poster about the visit of the Belgian Prime Minister.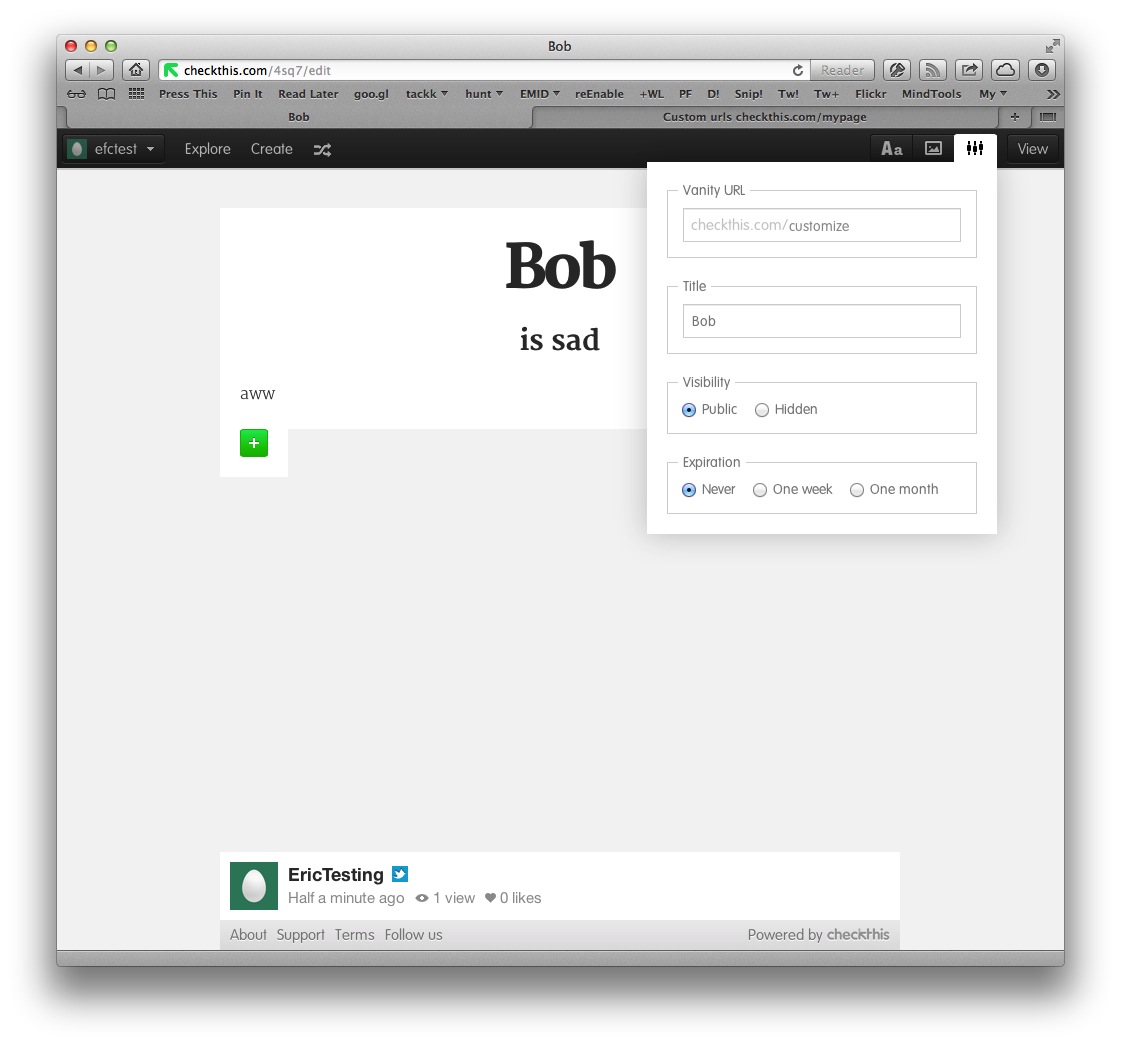 Each poster gets a URL that is a short random identifier after the
http://checkthis.com base. For example: http://checkthis.com/3s2e. However, the user can customize this identifier, see http://checkthis.com/mickey for example. This customization is in the preferences popup in edit mode.
There does not really seem to be a sense of private posters, however posters don't really have to be shared, so there is some privacy through obscurity. The ability to set your poster to "public" or "hidden" is in the preferences popup in edit mode.
The experience on an iPad is virtually identical to the experience on a desktop browser, all functionality is intact.
On the iPhone the experience is quite different. When visiting a poster, all discussion and opportunity to comment is removed. Most surprisingly, even the top CheckThis bar is eliminated. This leaves the poster content front and center. It is rendered responsively, remaining quite legible. A visit to a
poster with a photographic background demonstrates that user design choices can make the results a bit less than spectacular, but this is hardly the fault of CheckThis.
Comments
You are welcome to edit this page if you have the password. You can also choose to just leave a comment below, if you like.
Robert Hatta / 10 October 2012 / 10:14
Eric, with regard to mobile, I presume you used CheckThis through the mobile browser, not an app, correct?
efc / 10 October 2012 / 10:55
Correct, all mobile use was through mobile browsers.
Lucyanoford / 06 December 2012 / 20:16
Hi-I live in Wauwatosa-and I watch the Brewers all the time-but what I would like to know is-everytime I look at one of the Brewers they are spitting it does look like they are eaitng something and then spit something out-it just amazes me-everyone of the Brewers=plus Ned Jost is always spitting something out would you please tell me why they do that and what the heck are they eaitng and what they keep spitting out-Even when the camera is on one of the Brewers they are chewing on their fingers and then spit something out-Wow-I really-really would love to know what these great guys are eaitng and what they are spitting out!!! Thank you-this has been bothering me for awhile-so I decided to write in and see if I can get an answer to what these guys are eaitng and spitting Thank you-plus the Brewers are great!!!
uarwzxan / 08 December 2012 / 00:10
ml983D vbannzpspoeb
oocoqw / 09 December 2012 / 19:28
L7P1af xvyqqvbjahvf