This is our moment
I was feeling a bit tired this evening. Maybe we really didn't have to go down to the Xcel center. We could watch on tv. But I asked Nathaniel when he got home and he was excited. He'd told his friends he was going to the Obama rally. Alex was even still positive about it. OK, deep breath, here we go, time to join the masses.
I'd been downtown near lunchtime and drove past Xcel just to see what was up. Even then a line was forming, but it was only a block long. The evening news said the line was many blocks long by 5:30. We were aiming for six. By the time Mary dropped us off at about 6:10 I was certain we were getting out of the car near the end of the line. Not. We were only about 1/3 of the way there. By the time we found the real end of the line some estimates put the length at 1.2 miles. Given how far back the line kept forming, I'd say by the end we were no further than 2/3 of the way back. This was one long line.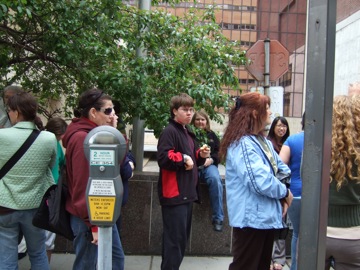 Luckily we had a cool gray evening without rain to hang out in. The crowd was friendly and we came prepared with Subway sandwiches and chocolate chip cookies. It was another hour before the line started moving in earnest. Then it crept. It was another hour before we could really say we were getting anywhere. Then we were walking, at one point jogging, we dared to imagine we might actually get into the Xcel Center.
It was about 8:50 when we got through security, 9:00 when we found our seats, and by 9:15 Obama was on stage.
I've seen these rallies on YouTube, being at one was a bit surreal. 18,000 people is a lot of people. It was a gift, in fact, to see the crowd stretched out through the city streets of Saint Paul, weaving its way back and forth, circling blocks, encouraging each other along the way. That really helped make the crowd of people inside less of a mass and more of a gathering of real folks. It was really really fun.
One thing that helps it be fun for me is the graphics. That's one of the oddities about me: I really notice design details and am bothered (oh so bothered) if they are off. The Obama campaign is like a soothing bath for me, a chance to appreciate, to luxuriate in a cascade of well thought out images, typography, color. I've never seen anything like it, and it transformed the cold interior of the Xcel Center into a warm embrace of us all. The thoughtful choices demonstrated again, for me, the respect this campaign has for everyone involved. We all deserve and get the best there is.
This picture demonstrates one strong impression from the evening. When framed in the media's glass box, Obama is front and center, he is the focus, he is the only whole person we see. But that is not reality at all, that is just a frame, a construct. The reality is that Obama is one of thousands of people seeking change. He is, in fact, hard to distinguish from the rest of us. He is a voice we can hear, but he can accomplish nothing without all of us. The media construct is helpful at times, inspiring and instructive. But the reality cannot be forgotten, he is nothing without all of us. This is our time and we are all responsible for waking up, taking part, changing the direction of our country and the world.
Obama's oratory was, I am sure, fantastic. I say "I am sure" because, to tell the truth, I was there more for the moment than for the content. I spent my time looking around. I spent my time appreciating the people who turned out. Two things, though, did strike me about the speech. One was how generous Obama was toward Clinton. He went well beyond the required niceties. He really celebrated her in a way that even began to thaw the ice growing around my own former appreciation of her. By the time he wrapped up his remarks about Clinton I could (just barely) imagine them as running mates without a shiver. The other impression was about the call to action. As always, Obama made this a call to all of us to take part in the renewal of America. The last few moments of this speech were brilliant:
America, this is our moment. This is our time. Our time to turn the page on the policies of the past. Our time to bring new energy and new ideas to the challenges we face. Our time to offer a new direction for the country we love.

The journey will be difficult. The road will be long. I face this challenge with profound humility, and knowledge of my own limitations. But I also face it with limitless faith in the capacity of the American people. Because if we are willing to work for it, and fight for it, and believe in it, then I am absolutely certain that generations from now, we will be able to look back and tell our children that this was the moment when we began to provide care for the sick and good jobs to the jobless; this was the moment when the rise of the oceans began to slow and our planet began to heal; this was the moment when we ended a war and secured our nation and restored our image as the last, best hope on Earth. This was the moment — this was the time — when we came together to remake this great nation so that it may always reflect our very best selves, and our highest ideals.
I was so glad that Alex and Nathaniel were able to share this evening with me. Indeed, that their enthusiasm woke me up and got me out the door. It is a far later night than usual for all of us, but well worth the time we gave it.