My favorite architect
My favorite architect is, of course, the one we hired! John was just breaking away to start his own firm, Shelter Architecture, when we hired him to design our third floor "subtraction" for our house. My study at home is part of the space that was made alive by the light and air John added to our lives.
Today John was interviewed about a wonderful new house he just completed in Minneapolis. Once again, it looks like John really lived into the dreams of his clients, building a simple modern house that, it turns out, gets the highest possible LEED certification for sustainability. It is an outstanding house! Take a look for yourself.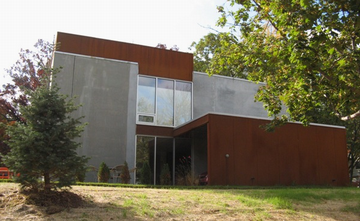 The interview is well worth listening to, along with its slideshow. The priority on this house was less on fancy new energy technology than on solid foundations of materials along with a flexibility of internal infrastructure that leaves this house efficient today and ready to adopt even more efficient technology tomorrow. The slides are also fun because you'll catch a glimpse of John!
Congratulations to John and the whole Shelter team. They must be doing well, I notice that they are moving into new space next month. Listen to the team talk about their commitment to "cause architecture."