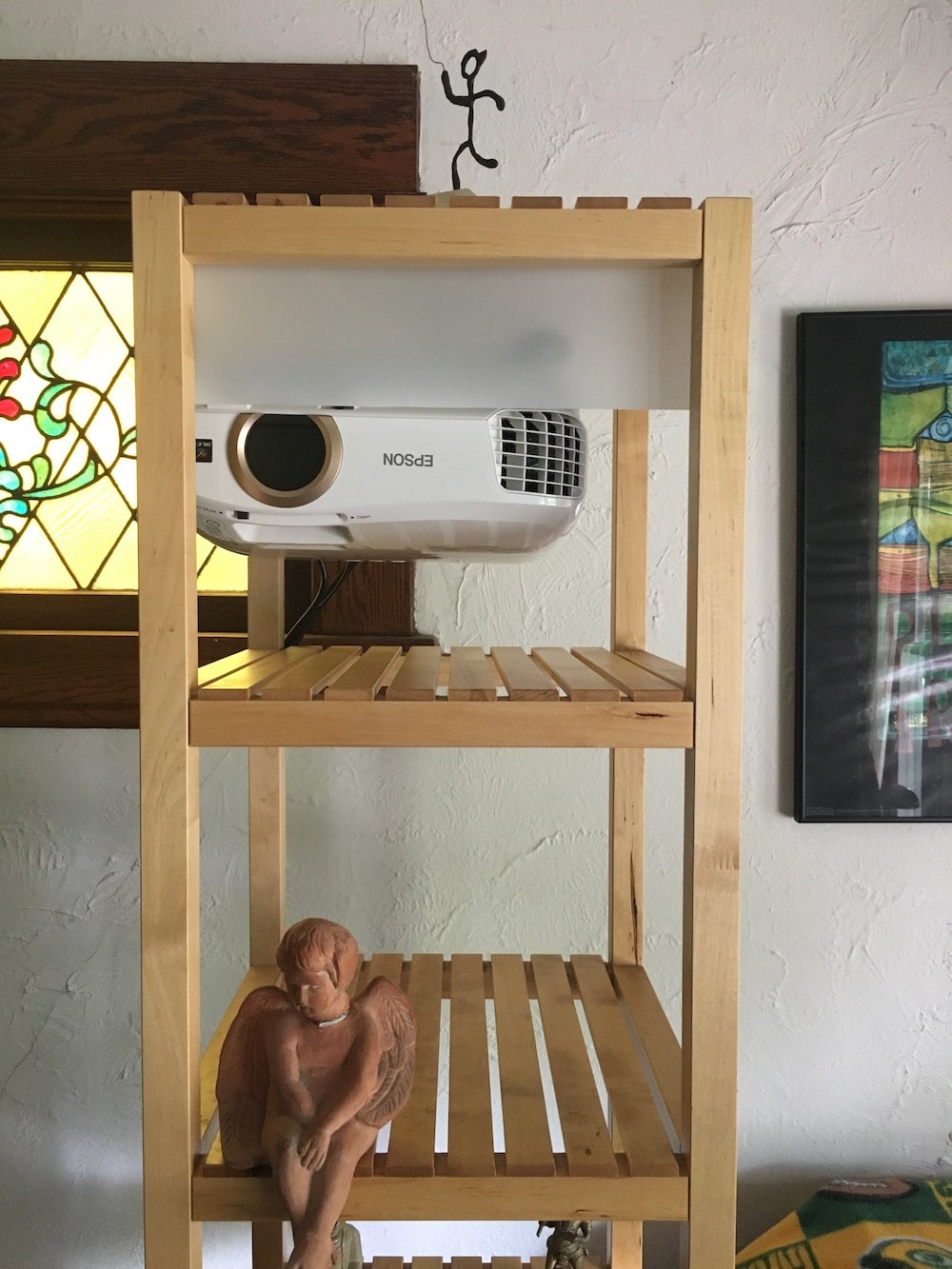 Buying a projector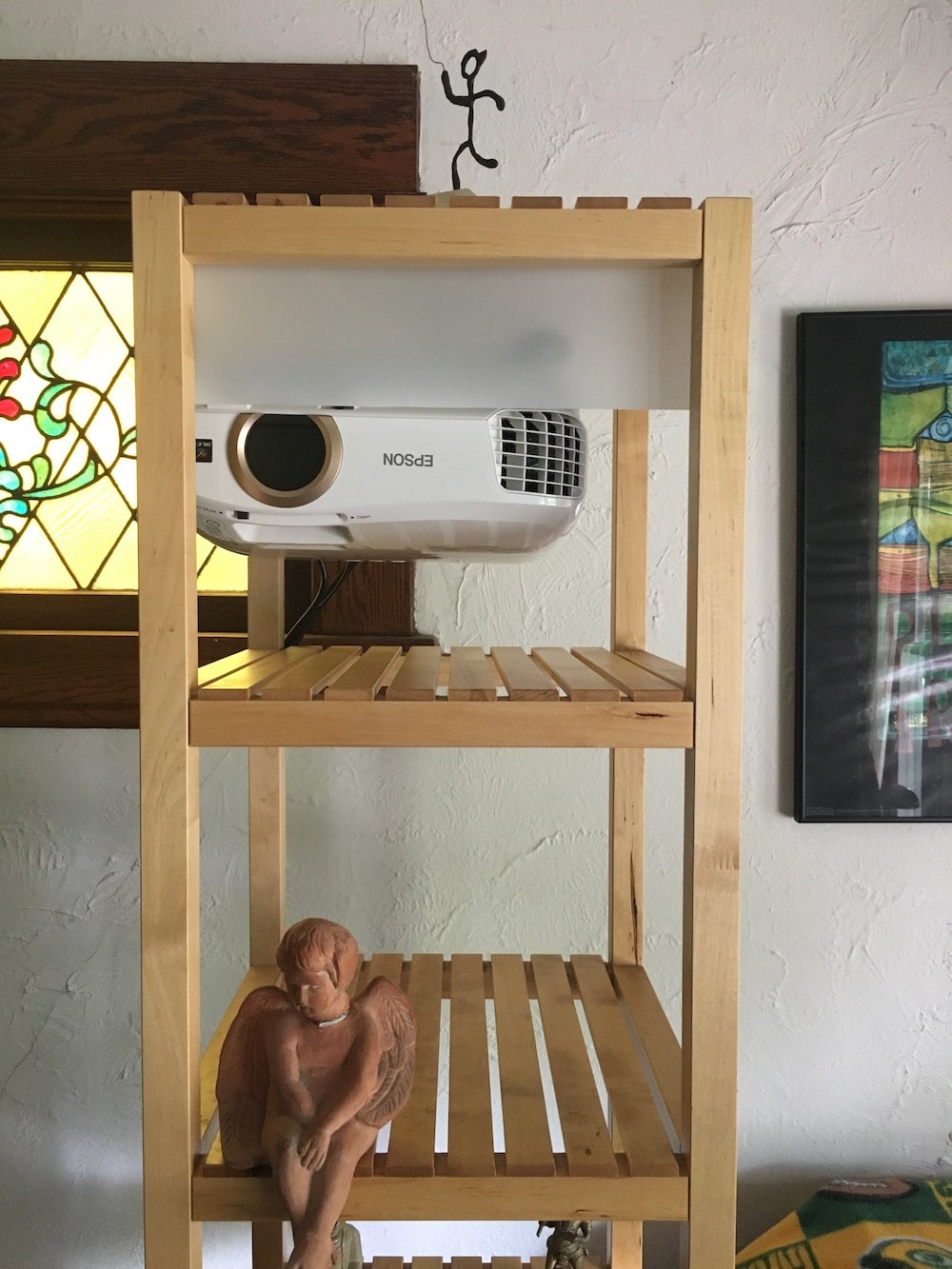 I have long been a fan of projectors for video. Since moving to St. Paul in 2000 we have not bought a TV, and in 2006 I bought a great projector and screen for our house. This year Mary encouraged me to consider replacing that projector, which had grown dim over the years and was not really doing justice to today's more moody, atmospheric content. To make a long story short, I really came to appreciate an outfit called Projector People and wanted to sing their praises a bit.
My needs are a bit peculiar, so I have to do a lot of research before buying a projector, and I need a chance to try it out before committing to it. This means I need a good return policy, which usually means I like to buy locally. Also, funds are limited and so I'm always shopping for price. In fact, in 2006 I'd bought a demo unit locally to keep the price down.
I see rainbows with almost any home DLP projector, so I'm always on the hunt for LCD which severely limits my options. I also pay close attention to projector "throw" specs (which determine whether the projector can produce an image the same size as my screen from across the room where I want to place it), and appreciate lens-shift ability (which makes projector positioning more flexible). Projector People have a wonderful web site which makes it easy to sort through options using your own constraints. I've used the site over the years, though I've never purchased from them before. As I said, I like purchasing locally to make returns easier.
This year I noticed that nobody, even locally, made returns particularly easy. Every local shop either had an "all sales final" policy for projectors, or charged a 15% restocking fee at best. While I understand the need for a restocking fee for projectors (after all, you do use the bulb when trying them out, and that bulb has a limited lifespan), this 15% fee would mean I'd spend nearly $100 just to try out a given projector. In fact, even online the lowest restocking fee I could find was 10%.
The exception to this rule was Projector People. They offer a 30-day full money back guarantee as long as you don't use more than 4 hours of bulb life. While 4 hours is not much time, it is enough to try out placement and check to see if the projector is working properly. Moreover, they offer this same policy even on their "B-stock" items (projectors refurbished by manufacturers and the like). This return policy even covers return shipping costs, something even Amazon does not do on many items.
That policy gave me enough confidence to try out a B-stock Epson projector from them. Since this was a refurbished projector, the price was really great, hundreds of dollars less expensive than I could find anywhere else.
Unfortunately, the projector had a serious issue. Everything was great except the noise. Projectors use a fan to cool off their hot bulb, and this projector seemed to have a defective fan which always ran at full speed. I was able to measure the noise it was producing with an iPhone decibel meter app and prepared myself for the return process.
This is when Projector People really earned my fandom. Their support was fantastic. From the call to my customer service rep, to my conversation with tech support, everyone was really friendly, knowledgeable, and helpful. Tech support quickly realized they had a well documented case and contacted Epson for advice on my behalf. In the end, they arranged to send out a replacement B-stock projector, reset my 4-hour bulb clock so I could test that one out with the full return policy intact, and got an RMA for me to return the defective projector directly to Epson. It was super easy, and all shipping costs were covered.
Later I called tech support again for some advice about mounting the projector. Again they answered immediately, gave me solid helpful answers, emailed me extra documentation, and really proved they wanted my experience to be top notch.
The replacement projector has a properly working fan and I am very happy with the service and support I got from this company.
Buying a projector can be daunting. There are a thousand options, they are expensive, and they are something you really have to try in your own space to be sure they fit well. Projector People helped me every step of the way, has great policies and staff, and followed through with terrific support. Nicely done!