Remembering: The Woods
When I was six I spent a year in Austria with Oma and Opa. I returned often for weeks in the summer time. I have distant memories of walking in the woods with Oma as a young boy. Oma would take me mushroom hunting, digging around near the base of the trees to find the small mushrooms from which she'd make a delicious soup.
But as I grew up and Oma stopped walking in the woods, Vienna became more about the city for me, less about the woods. As I brought my own little family back to Austria we would explore the city and go out to other parts of Austria for the country. We might take the bus up to Kahlenberg, but the paths and meadows of the Vienna woods were more or less lost to me.
One of the last things I remember doing with my grandfather was going for a walk. Opa, it turns out, used to walk quite a bit. One day he asked me to come along. I don't remember him saying much, but he walked like he was on a mission. His hands were folded behind his back as he took sturdy strides into the hills around Grinzing. I was lost quickly enough and just followed along. I remember climbing up the hills into the vineyards. At times we walked right though the vineyards, not even on any path. It was a long walk, I was surprised Opa had it in him.
Many years later as an angry father in a pique of temper with my family I escaped into the Vienna afternoon and decided to just walk. It was dreary and gray and I carried an umbrella. Soon it began to rain, I just kept walking. I tried to let Opa, long gone by this time, guide me. With a vague memory of our one walk together I stormed into the vineyards and just kept going. As I walked a stiff fog drifted over me, obscuring anything more than a few feet around me. I found a road and just followed it upward. Eventually, in the mists above me I saw the abandoned hotel at Kahlenberg looming over me. I just kept going, I had a lot of self loathing to burn off. I walked from Kahlenberg to Leopoldsberg and then down what felt like a thousand stairs to the small village below. From there I found the Donau, walked along its banks to Nussdorf, and then eventually back to Grinzing. By the time I got home four hours had passed, darkness had fallen, the rain had stopped, my temper had been tamed, and I was in love with walking in the hills. I thanked Opa for showing me the way.

Ever since, walking in the woods and vineyards around Grinzing became a balm and joy of being in Vienna. I took Mary, Alex, and Nathaniel into the hills. We learned how to walk up to Cobenzl and Kahlenberg, we learned our way around the woods. Alex particularly enjoyed exploring with me. Various meadows and twists in the woods would rise out of my memory like Kahlenberg through the rainy mists. I knew these places, these were my places, these were Oma's places. She no longer walked these paths, but I would always return and describe what we'd seen and she always knew where we'd been.

These last days with Oma were incredibly trying. A year ago today, things took a turn for the worse. An itching started. Oma complained and asked us to scratch. First it was scratching her feet, then her legs or back. The itching was relentless. The nights were restless as Oma seemed to get no sleep at all and called for Anna and I all night long. The house I'd grown up in had become something else, filled with an expectant quite or a terrible pain. It was a place of suffering. The woods became a refuge, and the stories I brought back of what we'd seen walking always seemed to help Oma also find a moment of peace. I think she was happy that not every minute of our day was spent tending her, that we still found a way to enjoy the spring that was erupting all around us.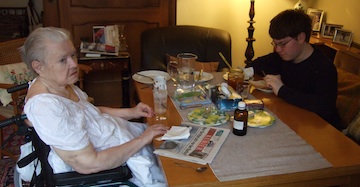 Oma joined us for breakfast today. We got her into the wheelchair and rolled her to the table in the living room. But she couldn't stand it. She was in pain, which was to be expected since she spent so much of her time in bed. She just asked to go back. For fifteen minutes here lament was "Bitte ins Bett." Please, back to bed. Breakfast had some of the trappings of the life we'd known with Oma, we gave her the newspaper, her boiled egg, her coffee, her pills. But she didn't touch the paper, and frowned as she ate. She was mad at us for putting her through this. It would be the last time I sat at the table with her.
Did she notice the spring sun coming through her grand living room windows? Could she appreciate the warmth growing on the breeze? All I heard was her pain and frustration. When Alex and I walked in the woods I tried to carry some piece of Oma with me, to help her escape a bit. I know it was an escape for me.