Thunderware Lightning Scan
This was a great old scanner for Macs of the System 6 variety. Lightning Scan was an early handheld scanner, designed by Thunderware. Thunderware was famous for an earlier scanner that Andy Hertzfeld helped create Mac drivers for, the ImageWriter-based ThunderScan. I loved this scanner and it has been gently used, but I have no use for it any longer. It is the original LS1001 model in its original box with all the original hardware (except for the SCSI cable), software, and manuals.
Yes, the SCSI cable is missing. These should not be too hard to find (here's one I dug up in 2012 for under $4). Make sure at least one end is a Centronics 50 style SCSI-1 connector, the other end should match your old Macintosh.
If you'd like to play with this bit of Mac history, you will have to look somewhere else. Ron B. took me up on the offer to send it to him for the shipping costs. He hopes to make it work with his Mac SE. Good luck, Ron!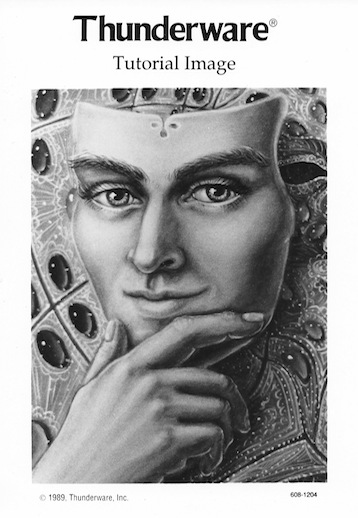 These two disk images were made with Disk Utility in Mac OS System 7:
Thunderware LS disk image
Lightningscan Dev. Disk image